You can sign up to the eastgrip-diary mailing list, and you will thus recieve the field diaries directly from camp. You sign up by following this link: http://mailman.nbi.ku.dk/listinfo/eastgrip-diary. Please note that you cannot reply to this list as all mails, except from the FL and FOMs, will automatically be rejected.
---
Pull Out
23 August 2018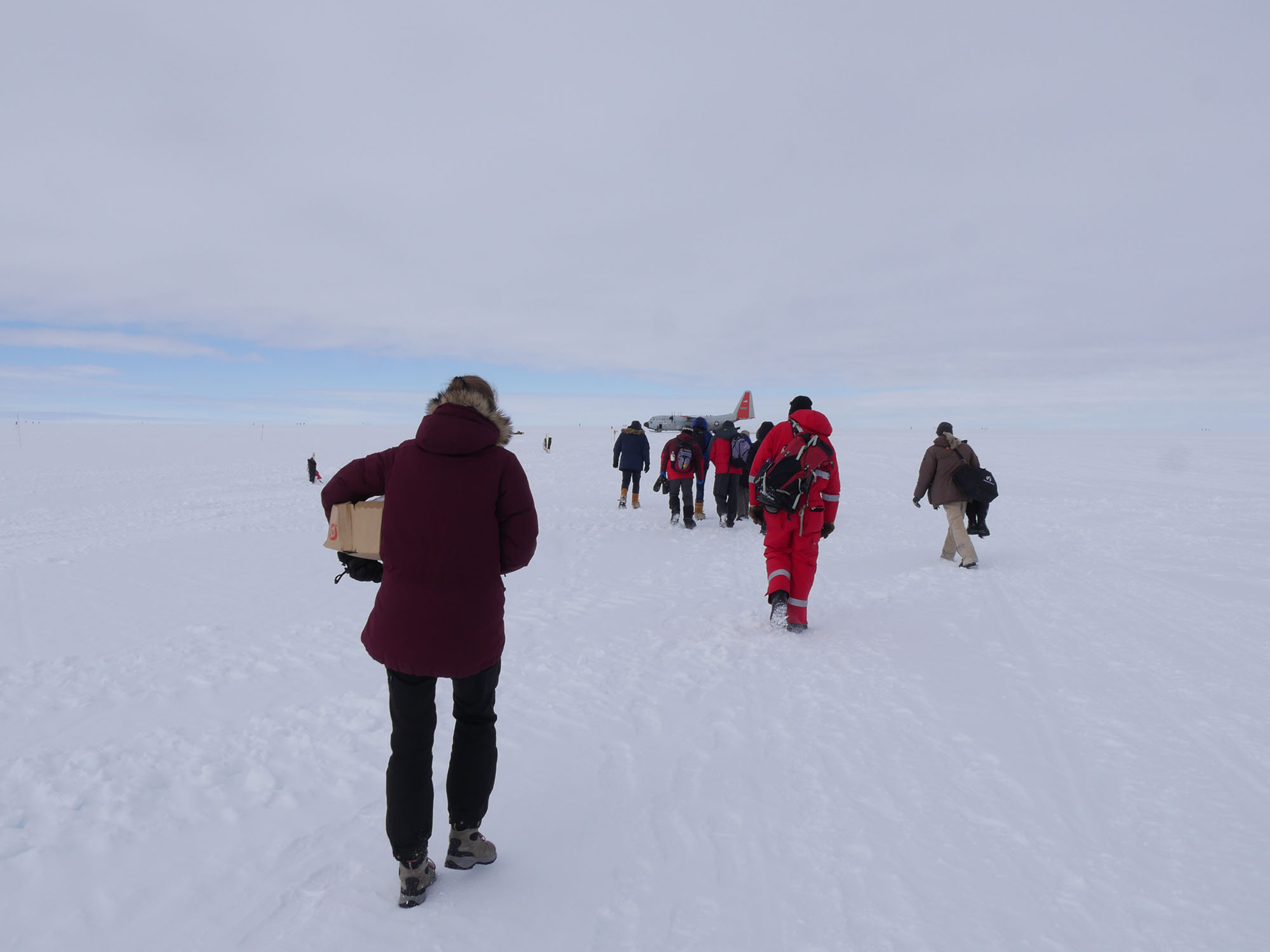 Walking to Skier 41.
Closing camp
22 August 2018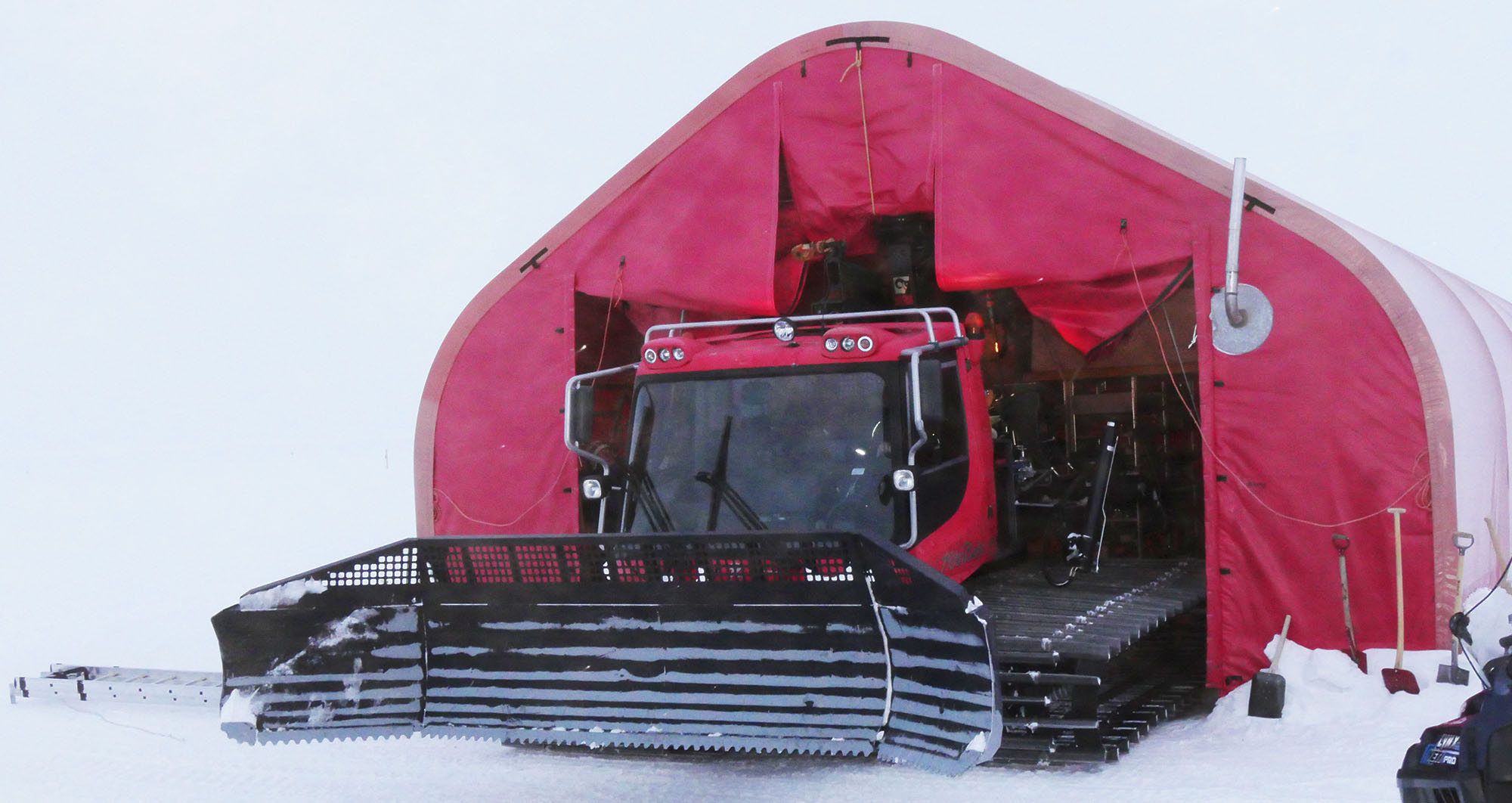 The tight fit of the Pistenbully in the garage.
Sunset
21 August 2018

Sunset at EGRIP.
What we did today
20 August 2018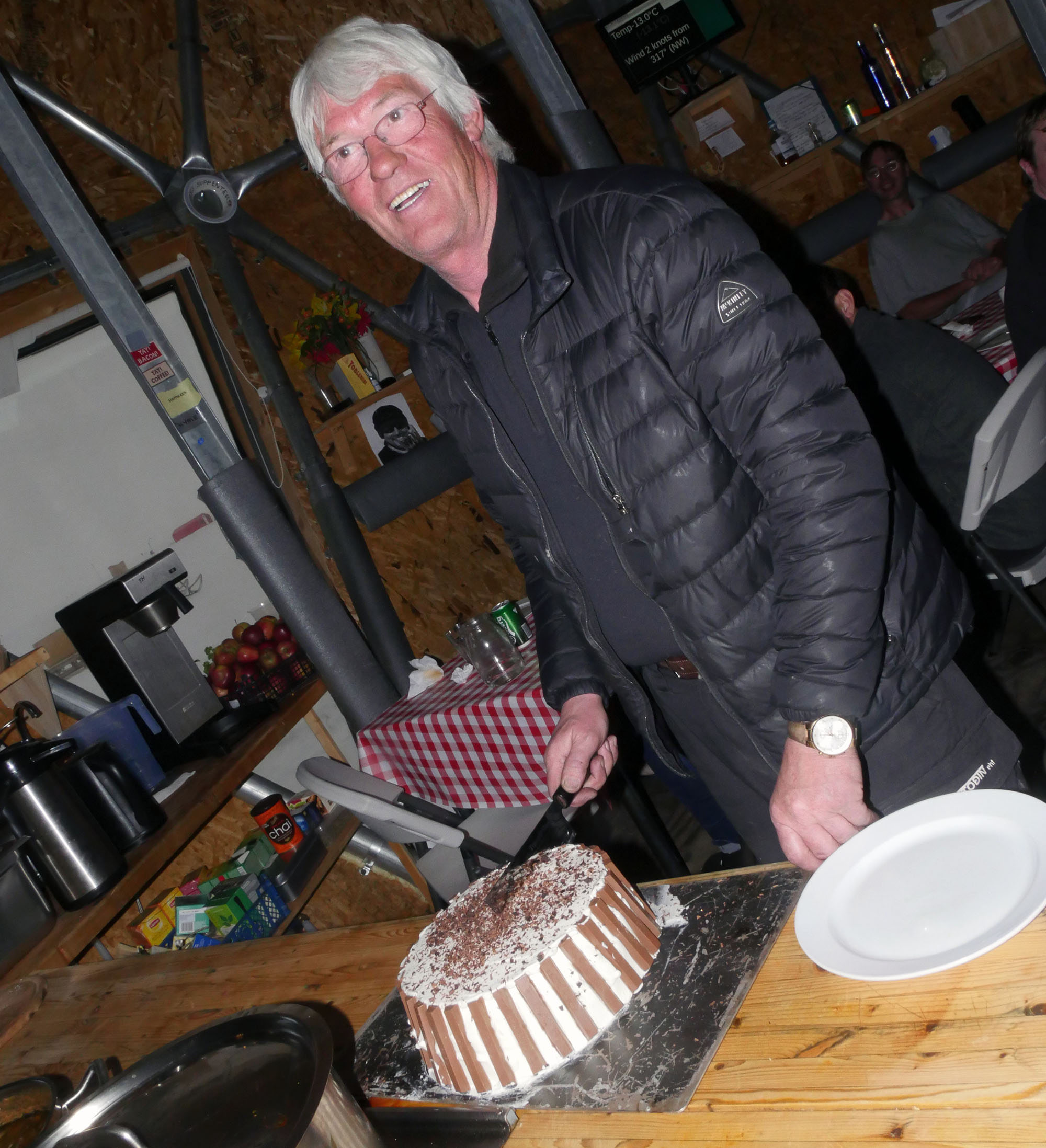 Sverrir's kitkat birthday cake.
New Fridge
19 August 2018

Sverrir and Frederik enjoying the new fridge.
Winterhills
17 August 2018

Pistenbully making the winterhills.
Sunset
16 August 2018

Iben in the sunset. The picture is taken 00:15 – just after midnight.
Mills Cross
15 August 2018

A drone image of the PistenBully pulling the Mills Cross Radar.
Doctors Tent
14 August 2018

A look into Lise Lotte's tent where she is documenting and packing the equipment.
Mills Cross Radar
13 August 2018

Mills Cross Radar.
Saturday Night Dinner
12 August 2018

Saturday night dinner.
Preparations for close down of EGRIP 2018
10 August 2018

Iben on the roof of the logging cabin taking a 'break' from removing snow blocks above the cabin.
Mission day
09 August 2018

Building the two ice pallets.
Packing tents and weatherports
08 August 2018

Packing weatherports and building pallets.
Packing, packing, packing
07 August 2018

Moving equipment from the Surface Program tents to the area accessible with skidoo.
Last drilling and processing day
06 August 2018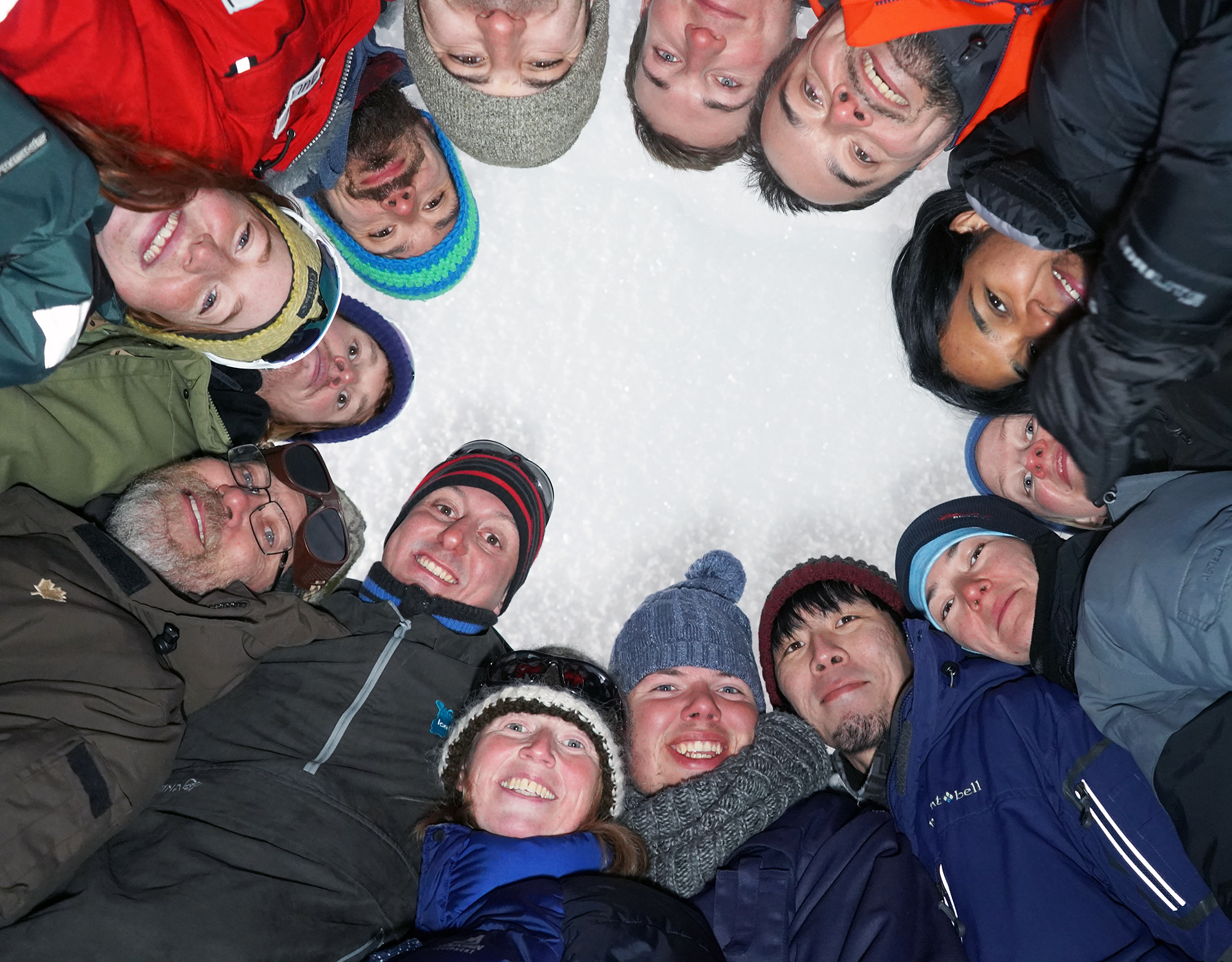 Happy Science Trench Team.
'My watch is over'
05 August 2018

A tired night shift happy to finish the filter runs on the last shift.
KOPRI 10 m surface core
03 August 2018

Eager team drilling the 10 m KOPRI ice core.
Very Snowy Day
02 August 2018

Nansen sledges in the snow.
Aliens at EGRIP
01 August 2018

Vapor drone over camp.
Plus degrees at EGRIP
31 July 2018

Barbaque for dinner. Frede and Sarah are the grill masters and Susanne is enjoying a burger. The weather station.
EGRIP Processing line in top gear
30 July 2018

Science trench team bringing empty foam boxes down into the trench.
EGRIP Ice Bar
28 July 2018

EGRIP ice bar with Silje, Sarah and Sonja serving an aperitif before the meal.
Plastic bag production
27 July 2018

The science team in plastic bag production mode.
Mills Cross Radar Balloon Sledge
26 July 2018

In preparation for a radar testing program after next flight period (9 August) we inflated and tested a drag system of the 18 m x 18 m balloon sledge.
EGRIP Michelin Restaurant
25 July 2018

To be at EGRIP is like eating at a Michelin restaurant two times a day.
A peaceful and sunny day
24 July 2018

With the good weather humor was high in the camp and all the work went well.
Establishing routines again
23 July 2018

It felt good to wake up in the morning to a normal day and start the drill trench, science trench and surface program with mixed groups of trained and untrained scientists
A busy weekend
22 July 2018

The weekend has been really busy with many guest and a major crew exchange.
Guests at EGRIP
20 July 2018

A flight day. The weather was perfect and we received Skier51 just before noon.
Signs of deformation
19 July 2018

The EGRIP camp is situated on the North East Greenland Ice Stream (NEGIS) and is thus moving almost 60 m with the flow every year.
Skier operations and glacial isotopes
18 July 2018

Time to say goodbye to the JSEP group after a couple of exciting days here at EGRIP.
An exciting day
17 July 2018

Today was the second full day of the JSEP groups visit to EGRIP, and what a day it was!
A lively camp
16 July 2018

Thanks to the JSEP group, the EGRIP camp is now buzzing with activity both below surface and on the surface.
Guests at EGRIP
15 July 2018

This weekend has been very exciting here at EGRIP, first we had our festive Saturday dinner-party with Sonja, Pia, Nico and Julien preparing an excellent dinner three course for all of us.
Turning a setback around
13 July 2018

Another eventful day in the EGRIP drill trench.
Good news and bad news
12 July 2018

Today was an eventful day, both at the RADIX site and in the EGRIP drill trench.
Filtering again
11 July 2018

The saga of the chips unfortunately seems hard to complete.
Drilling progress
10 July 2018

Both in the EGRIP drilling trench and at the RADIX site progress was made in the drilling operations.
Fun activities in camp
09 July 2018

At a remote field camp, small breaks in the daily routine are always appreciated, and Monday evening our doctor Lasse had kindly prepared a pop-quiz for us.
Producing the right chips
08 July 2018

Talk here at EGRIP is all about chips – albeit not the ones you eat, but the small cuttings produced while drilling through the ice sheet.
Processing catching up
06 July 2018

Today the processing line managed to get within 25m of the current drilling depth, in reality catching up, as we do like the cores to rest for a day or two in the buffer before processing them.
Drilling adjustments
05 July 2018

Today the drillers had a special guest in their trench – the dragon Dewi from Ysgol Bryn y Môr in Swansea.
Drilling again
04 July 2018

White ash layer on a black backgroung in the EGRIP core. Maybe the Vedde ash.
Drilling again
03 July 2018

Drilling ice cores at EGRIP. Left: A core peaks out of the bottom of the deep drill. Right: Nan inspects a core in the loggers cabin after extracting it from the drill.
Two camps
02 July 2018

RADIX camp, 27km NW of EGRIP.
A busy Weekend
01 July 2018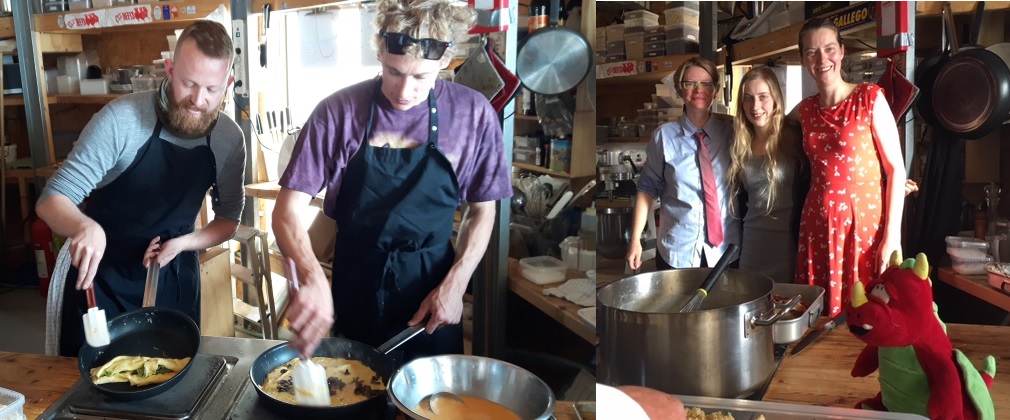 Left: Omelettes for Sunday brunch is prepared to order by our doctor Lasse and our chef Frederik: Right: Melanie, Anja and Siwan prepared Welsh style lamb with a mint sauce for Saturday dinner – supervised by Dewi the red Welsh dragon.
New crew in camp
29 June 2018

Skier 51 resupplying EGRIP camp.
Ice Music Concert
28 June 2018

The Ice Music concert in the Concert trench. A great experience.
Terminating the firn gas drilling and setting up the RADIX camp
27 June 2018

The RADIX train leaving camp
Entering glacial ice
26 June 2018

Today, visible cloudy bands showed up in the freshly drilled ice core; a clear indication that we have now entered ice from the last glacial period. Later a volcanic ash layer showed up, possibly being the well-known Icelandic Vedde ash layer...
Monday 25th June
25 June 2018

Today was a major day of exchange as we received a Skier with 25 passengers.
Saturday 23rd and Sunday 24th June
24 June 2018

Saturday night Valerie gave us an impressive demonstration of Dome-acrobatics.
Testing a newly designed toilet seat. Apparently, there is no risk, the hole has the right size.
22 June 2018

Testing a newly designed toilet seat. Apparently, there is no risk, the hole has the right size.
Summer Solstice celebration in the ice sheet
21 June 2018

Summer Solstice celebration in the ice sheet.
Terminating the firn gas program
20 June 2018

Terminating the firn gas program
Logging ice cores at double speed
19 June 2018

The deep drilling is steadily continuing and cores are now being logged in two shifts. This should allow the logging to catch up with the drilling within this week.
Terminating main processing of ice drilled in 2017
18 June 2018

Today the main processing line of the science trench reached the end of the brittle ice that had been stored in the ice core buffer over the winter
Departing kites, a great party, and another visible ash layer
17 June 2018

Departing kites, a great party, and another visible ash layer.
A camp full of activity
15 June 2018

The deep drilling produced an impressive 24.5 m of long ice cores of excellent quality today.
A Norwegian visit
14 June 2018

Early in the morning three kites showed up in the horizon, and shortly after we had three Norwegian kite-skiers in camp.
The difficult brittle ice
13 June 2018

It was a difficult day for the deep drilling that experienced many technical challenges last night and this morning.
A visible ash layer in the ice and start of the firn gas sampling
12 June 2018

In the morning we said goodbye to Norland 3 Twin Otter that headed towards Iceland.
A Twin Otter brings 6 visitors to camp for a night
11 June 2018

The deep drilling has started up again producing nice long ice cores in one piece after a weekend of crew exchange and filter runs.
New people in town
10 June 2018

New people in town.
Plane delayed until Sunday. Work continues.
08 June 2018

The warm and moist weather continues with periods of fine weather and overcast and snow.
Temperature record for early June: -1.4 C.
07 June 2018

This morning the snowy and windy and warm weather continued.
A snowy day all in white.
06 June 2018

A snowy day all in white.
Summer appears to have arrived.
05 June 2018

Summer appears to have arrived.
Back to the daily routine.
04 June 2018

Back to the daily routine.
A weekend with unwanted drama.
03 June 2018

The weekend began with much unwanted drama.
A polar bear incident in the EGRIP camp.
02 June 2018
A polar bear incident in the EGRIP camp. This is an extra report.
Ice cores and snow caves.
01 June 2018

Ice cores and snow caves.
We prepare ourselves for high winds this evening.
31 May 2018

We prepare ourselves for high winds this evening.
Temperature gets more agreeable.
30 May 2018

Temperature gets more agreeable.
Good that we chose barbeque yesterday.
29 May 2018

The wind has come back again today, so yesterday was just a short break.
Drilling, processing and spareribs.
28 May 2018

Today, we took advantage of less wind and used snow blowers to bury our big balloon for another snow cave. Also, Sarah our cook, decided to try out our barbeque.
Weekend; but work with the drill, ice core processing and surface science continues.
27 May 2018

Saturday morning, all hand were on deck in the trenches and on the surface; but work on the surface was hampered by rather strong wind and snow drift.
First 2018 ice core drilled and processing is gaining speed.
25 May 2018

Today, the drillers made the first test run with the long version of the drill.
Core processing has begun.
24 May 2018

Today, core processing began with a full team. They processed 8.25 m, however many small adjustments were needed, and people need to get into the routine.
Last cleaning up and final checks before ice core processing begins.
23 May 2018

Very few details remain before the entire ice core processing line is ready. We hope to begin ice core processing tomorrow.
Two planes came today.
22 May 2018

The second plane with supplies and new EGRIP members came today. This is the last plane before 7.June.
Preparing for flight tomorrow.
21 May 2018

The drillers have now completed pre-tensioning of the 3,400 m cable on the winch. Next step is mounting of the drill. In the science trench, planning of the core processing is in full swing.
Beautiful weekend on the ice.
20 May 2018

The fine weather continues, and with hardly any wind, it has been gorgeous. The conditions were ideal for opening stairwell and elevator shaft and handling big balloons.
Activity above and below.
18 May 2018

We have had really good working conditions today. We took advantage of the fine weather to clean up in the cargo line and excavate the wooden roof over the staircase to the drill trench and cast an extension of the stairwell to the present surface
Today we received an LC-130 flight.
17 May 2018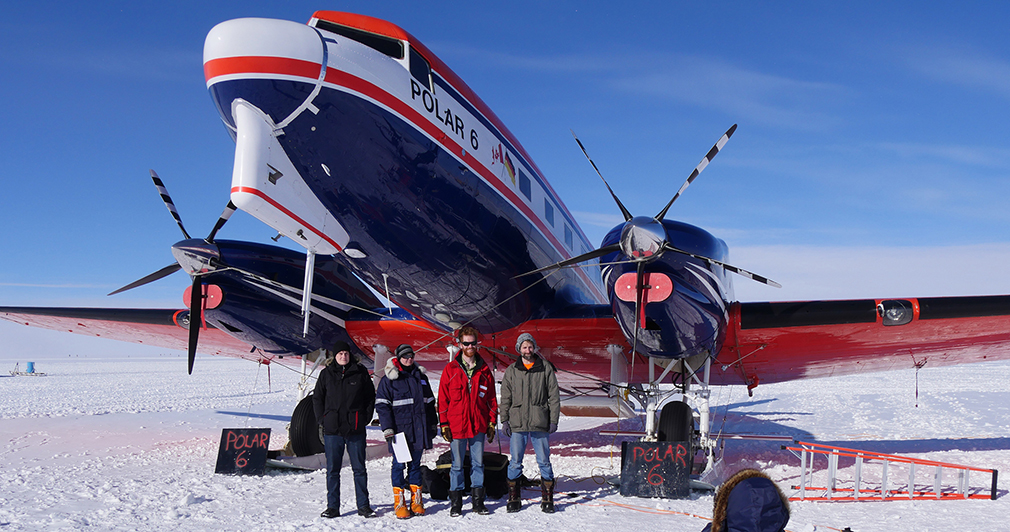 Weather was good, and today we received a Hercules plane from Kangerlussuaq. We had the first crew exchange of the season.
Preparations for flight tomorrow are finished.
16 May 2018

One of the first milestones of the season was reached today, as logging of the brittle core from 2017 was completed.
Preparations for flight tomorrow which is postponed to Thursday.
15 May 2018

The first of the put-in crew are already scheduled to leave tomorrow as we have an LC-130 flight scheduled.
Cleaning the borehole.
14 May 2018

In preparation for the actual ice core drilling, the borehole logger was lowered into the hole yesterday. Today, drillers made the first filter run.
A good weekend at EGRIP.
13 May 2018

Saturday was rather windy; but with higher temperature than the previous days.
It appears spring has arrived to EGRIP.
11 May 2018

At noon, a very weak front passed over with some clouds for an hour, the wind changed from SW to SE and temperatures increased by 6 C within half an hour.
A very special day. EGRIP turned into an airport.
10 May 2018

Today, we received a visit of a group of distinguished visitors. It consisted of a mainly Swiss delegation of senior scientists, decision makers, the press, and the Swiss Ambassador to the Kingdom of Denmark.
Radar measurements, work on the surface and in the trenches.
09 May 2018

The day has been fine; but very cold again. It is difficult to start engines both on the air plane and the vehicles. Everything takes longer time.
Finally, the German Basler arrived.
08 May 2018

Today was the day. The air over North Greenland is now dry and cold and the Basler made it to EGRIP at 12.05. After a short break, they flew a two hour radar survey in the vicinity of EGRIP.
A sunny, cold and nice day at EGRIP.
07 May 2018

Work in camp is in full swing. People are working intensely to prepare the drill trench.
Activity in carpenters garage and underground.
06 May 2018

Many tasks are beginning in parallel in the trenches by several teams.
First official Saturday evening in camp.
05 May 2018

Although the weather continues to be cold and unstable, and German Basler again was cancelled, we did some work on the surface and in the trenches.
Today it happened. Our people came in with re-supply.
04 May 2018

The blizzard blew itself out last night. This morning offered good flying conditions, after the ground fog dissipated.
Both planes today cancelled due to poor weather conditions (and again!)
03 May 2018

The irony of it all! Today, a bit unexpected, weather this morning was peaceful and nice. The plane from Kangerlussuaq was scheduled to depart at 10.30.
Both planes today cancelled due to poor weather conditions (again!).
02 May 2018

Again today, the weather has been unsuitable for flying and working too much outside.
Both planes today cancelled due to poor weather conditions
01 May 2018

This morning we woke up to -40°C and 8 kt wind. It was cold.
Better weather. Still cold though.
30 April 2018

The forecasts were a bit too pessimistic – and we are happy about that.
Rough weather. Tough to be outside.
29 April 2018

Today, we were happy that we finished a weatherport yesterday evening. Last night the wind picked up, and during the whole day today the wind was not less than 15-22 knots.
Day two at EGRIP. Luckily it got warmer.
28 April 2018

The night was cold, even in the main dome; but at night progressed, the effects of a hot stove and several electrical heaters were felt, and it was much easier to get out of bed than into it the previous evening.
EastGRIP camp 2018 is now open!
27 April 2018

The first team of 9 field participants arrived at EastGRIP at 15.20 local time. Temperature was -33°C and the wind was 11 knots, so it felt quite chilly.