In the 2015 field season, vehicles, buildings, and equipment from the North Greenland Eemian Ice Drilling camp, also known as the NEEM camp was moved 440 kilometers over the Greenland ice sheet in an overland traverse to the EastGRIP site. Although the iconic main dome and a lot of smaller structures and tents are used again, the EastGRIP camp will essentially have to be constructed from scratch in the field season of 2016. All the information is described in detail in the field plan.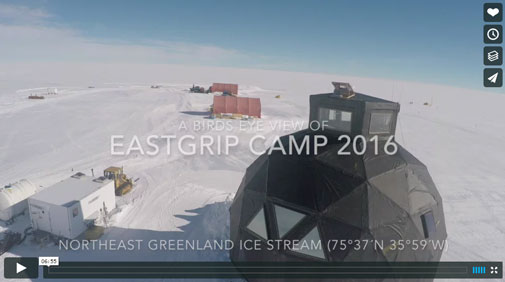 Skiway
As a new initiative, the landing strip (the skiway) will be laid out such that aircraft can be parked in the direction of the prevailing wind at the site. This initiative has been negotiated with the 109th airlift wing. An advantage of this is that passengers leaving and entering aircrafts can walk straight to/from camp with this construction.
Science trenches
While accommodation, storage, and vehicle garages are located on the surface, most of the science takes place in underground covered trenches, where the temperature is low and stable. The science trenches at EastGRIP will be built by using a new "balloon snow casting system" technique. This is an environmentally friendly technique, as it leaves no building materials at the site when we leave the camp in the future, and reduces the amount of building materials to be flown in.
The trenches, passageways, elevator shafts, and stairwells are first excavated using a large snow blower mounted on a Pistenbully tracked vehicle. Secondly, large balloons will be inflated in the trenches and shafts, and snow will be blown back on top of the balloon to construct the trench roofs. After a few days the snow has set and the balloons will be removed after being deflated and can be reused.